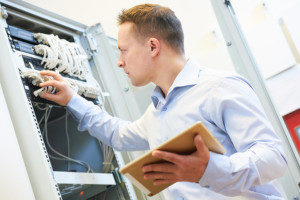 As the technology sector continues to grow and develop, the demand for technology insurance rises. Technology insurance is designed to protect providers of technology services or products. From small business start-ups to major corporations, a technology insurance company can help you analyze current and future business risks and provide solutions that help protect your business from problems like security breaches, software failure, data theft, and phishing scams. Learn more about technology insurance, common technology insurance company claims, and why you should obtain a policy.
What Is Technology Insurance?
There is technology insurance policies designed to fit the needs of technology companies of all sizes. Technology insurance offers a wide range of coverage options to protect against all types of company claims. With liability insurance, businesses can maintain coverage for potential legal defense costs, even if the allegations made against your business were baseless. A policy will also cover any resulting judgments against your business, including court costs, up to the set coverage limits on your policy. A technology insurance company can offer crucial coverage options such as:
General Liability Insurance
Workers Compensation Insurance
Commercial Automobile Insurance
Loss of Income Insurance
Excess Liability Insurance
Crime Insurance
Errors & Omissions Insurance
Directors & Officers Insurance
Property Insurance
Equipment Breakdown Insurance
Cyber Liability Insurance
EPL Insurance
As technology is the core of many modern businesses, nearly any business that utilizes a form of technology can benefit from acquiring technology insurance. Businesses that use cloud-based services and similar technologies should maintain a technology insurance policy due to the risk of data loss or theft. Companies that create software or other technology can also be susceptible to lawsuits due to intellectual property and should have a policy. Consider how vital technology is to your operations when making a decision.
What are Common Insurance Claims?
Breach of Warranty. A breach of warranty may occur if a seller fails to fulfill the terms of a claim or promise made relating to the type or quality of a certain product. State and federal laws cover product warranties. If a seller breaks these laws, a buyer has the right to sue for breach of warranty.
Negligence. Negligence may occur if a business fails to use reasonable care, resulting in harm or damage to a person or entity. This may occur if a person fails to exercise the appropriate practices or precautions which cause a financial loss. Often times, negligence is caused by a simple mistake or general oversight.
Mechanical Breakdown. If you have a business that sells technology products, such as computers or smartphones, mechanical breakdown can occur. Mechanical breakdown is the failure of a device which causes it to not perform its intended function. For example, if a cell phone turns off automatically when making a phone call.
Data Theft. When paramount information is stolen, such as addresses, social security numbers, or credit card numbers, the outcome can be significant. In fact, the loss following a cyber-attack can be so massive that many small businesses are forced to shut down. Companies are responsible for keeping customer data safe and confidential.
Breach of Contract. A breach of contract can occur when one party fails to meet the obligations set out in a written or verbal contract. Breach of contracts can result in the payment of damages, including compensatory damages, nominal damages, punitive damages, and liquidated damages.
Copyright Infringement. Copyright infringement relating to software can occur to companies who manufacture and sell computer software. This can occur when a company uses work protected by copyright law without permission. If found guilty, copyright infringement can carry a hefty fine and possibly up to five years in prison.
Liquid Damage. Most companies own expensive technology equipment, such as computers and other devices. A single cup of coffee spilling on a laptop can result in hundreds to thousands of dollars in damage.
Misrepresentation. A claim of misrepresentation can occur when one party makes a false claim or statement with the goal of enticing another party or person into agreeing to the terms of an agreement. Contract law says a plaintiff has the right to recover compensatory damages if the court finds that fraudulent misrepresentation has occurred on behalf the defendant.
Learn More About Technology Insurance
Technology insurance can help support your business and minimize certain risks that your company may face during normal operations. Whether your company has just a few clients or tens of thousands of customers, a single data breach can have costly repercussions that affect your business as a whole. Depending on the type of business you have, some suppliers or investors may require that you have technology insurance. For more information about technology insurance or to acquire a technology insurance policy, contact a reputable technology insurance company.