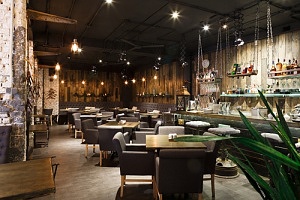 Many entrepreneurs choose to purchase a franchise instead of starting a business from scratch. While there are many reasons for this, one of the biggest is the cost savings. Purchasing a franchise is often cheaper and it already comes with a loyal following, which takes some of the marketing load off your back. This article will cover all you need to know about restaurant insurance.
However, as purchasing a franchise differs significantly from starting your own business, things can get a little difficult to understand in terms of insurance requirements. As the owner of a franchise, you face certain risks and liabilities. Protecting yourself from potential lawsuits is crucial for the long-term success of your business endeavor.
Is Your Franchise Covered?
When you own a franchise, you will be responsible for certain fees, which can range from $20,000 to $50,000 or more on average. There is a common misconception that these fees pay for things like insurance, when in reality, they do not. These fees typically include royalties and the privilege to operate your business under an established brand. For franchise owners, this means that you are responsible for purchasing your own restaurant insurance policies.
The Risks of Not Having Restaurant Insurance
Whether you are operating a small franchise or a major one, the risks that come along with running a restaurant are very real. Restaurants are regularly exposed to the risk of damage, loss, and injury and illness among staff and customers. Your restaurant could also succumb to fire, equipment malfunction, or even accidents involving company vehicles. There is no way to safeguard against all of these risks. That is why having restaurant insurance is crucial to prevent financial ruin in the event of a major incident.
Restaurant Insurance Policies
There is no one best type of restaurant insurance. Ideally, you should have a variety of policies to safeguard all aspects of your business, from your inventory and equipment to your vehicles and employees. Here is a look at some of the most important types of restaurant insurance policies.
Property Insurance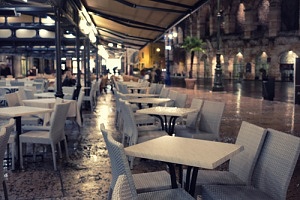 Commercial property insurance is one of the most valuable policies a restaurant can possess. This type of insurance protects your building, as well as its contents. It also includes some outdoor fixtures like signs and fencing. There are a number of situations in which property insurance could come in handy, such as if a fire broke out, a pipe burst, or a storm caused significant damage to your business. In these types of situations, your restaurant insurance would help cover the cost of damage.
Spoilage Insurance
Certain types of businesses that deal with perishable products, such as franchises, require spoilage insurance. If there is an extended period without power, your stock of perishable goods could go bad, making them unusable. If served to customers after the fact, you risk causing foodborne illnesses. Spoilage coverage helps cover the cost of perishable foods that go bad due to covered incidents such as power outages or the breakdown of refrigerators.
Product Liability Insurance
Product liability insurance provides protection against financial loss in the event that a lawsuit arises due to a product that failed to work as it should. In the restaurant industry, this could be a dish cooked with an ingredient that triggers an allergic reaction in a customer. With product liability coverage, your restaurant would be protected from the fallout that happens after the customer suffers illness or injury.
Equipment Insurance
Many restaurants would not be able to continue operating without essential pieces of equipment like stoves, ovens, and coolers. However, equipment can break or malfunction at any time, putting your restaurant at serious risk. Equipment insurance is designed to safeguard your business against damages if a piece of equipment fails due to a covered reason, such as a fire, lightning, flood, explosion, riot, or even a malicious person.
Workers Compensation Insurance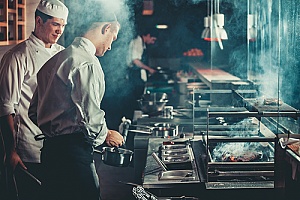 Workers compensation is not just a suggestion, but it is required by law in most states. With workers compensation insurance, employees are protected in the event that they become ill or injured while performing work duties. By choosing to forego workers compensation, you put your franchise at serious risk and could actually be breaking the law.
Liquor Liability Insurance
If your restaurant manufacturers, sells, or serves any type of alcohol, then you need liquor liability insurance. Your restaurant could be held liable if a patron drinks at your business and then gets into a vehicle accident, causing injury to others. Even though you are not completely responsible for what happened, the court may lay some blame on your restaurant.
Acquiring Restaurant Insurance
Owning a restaurant franchise can be an amazing opportunity to sharpen your business skills and grow your profits. However, it is important to be smart and protect your business from possible risks and liabilities. For more information about whether or not a franchise needs restaurant insurance, or to acquire a policy, contact MFE Insurance.