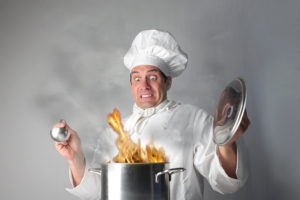 Operating a restaurant comes with many rewards. However, it also poses a number of risks. What would happen if a customer got drunk and injured another patron? What if a fryer caused a grease fire, resulting in tens of thousands of dollars in damage? Without adequate insurance, you could be stuck footing the bill. To protect your livelihood, it is crucial to acquire restaurant insurance that covers the unique risks faced by your eatery. As no two restaurants are exactly the same, you will want to consult with an insurance broker to determine what policy is best suited to your needs.
Building a Restaurant Insurance Policy
The type of policy and cost of your restaurant insurance will majorly depend on factors, such as the square footage of your commercial property, age and type of building, and number of employees. Other factors that could influence your policy includes the type of fire and security system you have, what equipment you have in your restaurant, the value of the inventory and technology, and the projected number of customers and sales. No matter the circumstances, you never want to skimp on restaurant insurance. Accidents can happen at any time and are often out of your control.
What kind of insurance does a restaurant need? When building a restaurant insurance policy, consider the following types of coverage:
General Liability Insurance. An essential component of any good restaurant insurance policy is general liability. General liability insurance protects restaurants against third-party claims, such as bodily injury, property damage, or personal injury. For example, if a customer suffered a slip and fall accident and was injured in your restaurant, general liability would usually cover the damages.
Product Liability Insurance. If you own a restaurant, you are responsible for any food that enters or exits the building. If you sell your special salad dressing at the front counter and it makes someone ill, that person could file a lawsuit against your restaurant.

Liquor Liability Insurance. If your restaurant manufacturers, sells, or serves any type of alcohol, having a liquor liability insurance policy can prove invaluable. Also known as dram shop insurance, liquor liability provides coverage for businesses that generate an income from alcohol. For example, if a patron becomes drunk in your restaurant and hits a pedestrian while driving home, you could be found liable for the pedestrian's injuries.
Assault and Battery Insurance. Having assault and battery insurance is essential for any company in the hospitality business. This type of insurance covers specific incidents, such as physical conflicts between patrons. Assault and battery insurance may also cover other types of conflicts. For example, if a bouncer injures a patron, the restaurant may be responsible for any damages.
Property Insurance. With property insurance, restaurants are protected from certain risks associated with their assets, building, inventory, equipment, and supplies. If a covered claim should occur, you can rest easy knowing that the problem will be quickly addressed.
Automobile Insurance. There are many instances in which auto insurance may come in handy. As a restaurant, you may have to transport ingredients or supplies in a vehicle which could result in an accident. A member of your staff may also be involved in an accident when delivering food to a customer. Having commercial automobile insurance can help cover any damages incurred.
Workers Compensation Insurance. Nearly every state in the U.S. requires restaurants to have workers compensation insurance. This type of coverage helps pay for any lost wages and medical bills that an employee may encounter if they become injured on the job.
Equipment Breakdown Insurance. From refrigerators and ovens to stovetops and walk-in freezers, restaurants utilize a wide range of expensive equipment. If a piece of equipment should stop working or suffers a mechanical or electrical breakdown, having equipment breakdown insurance can ensure that any repairs or replacements do not come out of your own pocket.
Spoilage Insurance. Food going bad or becoming contaminated is a major concern for restaurants. Spoilage insurance can help cover any costs associated with the spoiling or contamination of food due to equipment failure or power outages. An insurance policy can help replace any perishable stock. To qualify as perishable stock, the item must be maintained under controlled conditions and be susceptible to damage or loss if these conditions change.
Learn More About Restaurant Insurance
Restaurant insurance is not just limited to traditional restaurants. These policies also cover other types of establishments, such as taverns, bars, night clubs, sports bars, quick service eateries, delis, pizzerias, entertainment venues, food trucks, caterers, and more. It is also important to understand that not all restaurant insurance policies offer the same level of coverage and you may not need the same coverage options as the restaurant down the road. To determine what type of insurance your restaurant needs or to learn more about restaurant insurance, contact the restaurant insurance brokers at MFE Insurance.