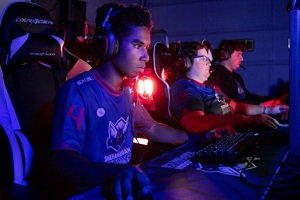 Although participating in competitive gaming may not seem as physically exerting as more traditional sports on the surface, the reality is that repetitive motions and long periods spent sitting in the same position put eSports players at risk of a range of injuries, some of which could spell the end of their career.
Several high-profile players have made headlines for eSport-related injuries in recent years. The potential for injury means that taking out long-term disability insurance is essential to protect income when a player is unable to work. This type of insurance may also provide coverage for work-related illnesses as well, making it a vital part of a comprehensive eSports insurance policy.
Outlined below are some of the most common injuries encountered by players in the eSport industry.
Carpal Tunnel Syndrome
Carpal tunnel syndrome is a potentially serious problem that can strike people who use their hands and wrists extensively, making it a top concern among professional gamers. Its symptoms can range from tingling and numbness in the wrists and hands to piercing pain that shoots up through the wrist and into the arm.
It occurs when the narrow passageway of bones and ligament at the base of the hand swells, compressing the nerves and leading to symptoms that can grow progressively worse and compromise a person's ability to grasp objects such as controllers.
Although milder cases may be addressed with anti-inflammatory medication, in some cases, surgery may be necessary to correct the issue. Some players may also need to wear splints or rest their hand for an extended period to recover, putting their earning potential at serious risk.
Tennis Elbow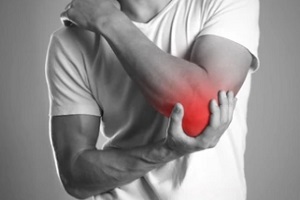 Tennis elbow, or lateral epicondylitis, is another common injury among gamers that is caused by the repetitive arm and wrist motions that are involved in playing many popular competitive games. It is characterized by inflammation or microtearing in the tendons that join forearm muscles to the outside part of the elbow due to overuse, resulting in pain and tenderness.
Although it can resolve on its own, it is considered to be a medium-term injury that can take months of physical therapy to properly recover from and is often painful enough to keep players from reacting quickly enough to be competitive or even playing video games in the first place.
Tendinopathy
Another common ailment found in eSports, tendinopathy is a painful but non-inflammatory tendon problem arising from repetitive use that may impact a player's elbows, forearms, shoulders, wrists or hands. It is different from tendinitis in the sense that it does not involve an inflammatory process and therefore requires different treatment.
Although many attribute it to overuse, scientists believe that it is an unfavorable body position that plays the biggest role in causing this problem; a lack of blood flow may also be a factor. For example, concentric contraction such as pressing controller triggers or lifting fingers off of mouse buttons repeatedly could be a cause. Another potential cause is improper posture that causes a player to reach for their mouse instead of allowing their arm to rest at the right height to avoid reaching.
Tendinopathy can cause perceived weakness and pain that increases when pressure is put on the tendon or it is stretched or contracted. Physical therapy can help treat it, and in more severe cases, surgery may be necessary.
Trigger Finger or Gamer's Thumb
Trigger finger, or gamer's thumb, is tenosynovitis affecting two thumb tendon sheaths caused by excessive thumb movement. For many gamers, it manifests when the extensor pollicis brevis and abductor pollicis longus muscles pull the thumb away from the palm and hand. In addition to impacting gamers who use a lot of thumb stick movements, it is also prevalent among people who send a lot of text messages, which has inspired the nickname "texter's thumb". It is more common in console gamers than PC gamers.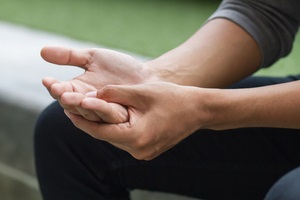 This condition is characterized by pain in the thumb side of the forearm and the wrist. It may make gripping feel weak, although this weakness is often only a perceived weakness due to the pain rather than an actual weakness. Bending the wrist toward the pinky side of the hand may cause the pain to deepen, as can pulling the thumb away from the hand. If symptoms get worse after periods of gaming and improve following periods of rest, it is a strong indicator of gamer's thumb.
Caused by poor hand position or failing to warm up or cool down properly, it often requires rest and physical therapy. Sometimes, immobilization through sprinting and bracing may be needed; extreme cases may require surgery.
Reach Out To The Experienced eSports Insurance Professionals
Learn more about how our customized policies can offer competitive gamers protection against the many risks faced in eSports. Contact the experienced eSports insurance brokers at MFE Insurance online or over the phone at 213-266-7990.