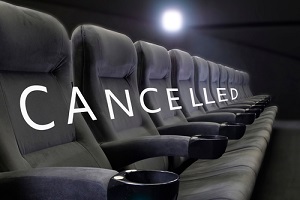 Planning an event requires a significant investment of time and money. Unfortunately, no amount of preparation and planning can prevent certain circumstances from leading to the cancellation of your event, whether it is a convention, concert, athletic event, festival, or corporate event.
Event cancellation insurance may help to cover expenses in cases where a special event needs to be canceled or postponed unexpectedly because of certain circumstances beyond your control, such as adverse weather, natural disasters, safety threats, disease outbreaks, acts of terrorism, labor disputes, and non-appearance of key figures.
With event cancellation insurance, you typically select a maximum amount of overall coverage, or a limit, which represents the cap on the amount of money your insurer will reimburse if you make a claim. This is usually calculated according to the total cost of the event, and there may be a deductible due before the policy will reimburse a covered loss.
The protection from these types of policies extends beyond covering a full cancellation; they also provide coverage if an event needs to be postponed or relocated due to a covered cause.
Event Cancellation Insurance Coverage
Outlined below is a closer look at the specific perils that are covered by a typical event cancellation insurance policy.
Adverse Weather
Event cancellation insurance provides coverage for cancellations due to a range of adverse weather conditions, including ice and snow storms, heavy rain, tornados and hurricanes.
Natural Disasters
If a natural disaster such as a fire, flood or earthquake causes an event to be canceled or postponed, event cancellation insurance will provide coverage.
Safety Threats
Event cancellation insurance typically includes safety threats. For example, if local or national authorities receive information about terrorism appearing to pose a real risk of injury or damage if the event were to proceed, the cancellation will usually be covered, even if the risk ultimately proves to have been a false alarm.
Acts of Terrorism
Events bring people together, and the large crowds that they attract can make them an appealing target for acts of terrorism. Event cancellation insurance may provide financial reimbursement to the hosts of events that are canceled due to acts of terrorism.
Outbreaks of Communicable Disease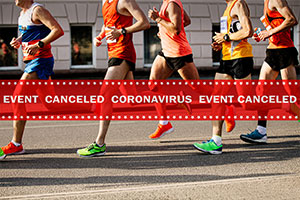 The recent COVID-19 pandemic underscored how easily a major disease outbreak can send the world into upheaval. In some cases, COVID-19 may now fall into the pre-existing circumstances exemption category, so it is best to discuss this with your insurance provider. Although not all event cancellation insurance policies will cover disease outbreaks as standard, it may be added onto the policy as an endorsement.
Labor Disputes
This type of policy generally covers cancellations due to labor disputes if they do not involve the policyholder or their employees.
Non-Appearance
A non-appearance option in an event cancellation insurance policy is useful if the event depends on the appearance of a specific person or group, such as a performer, player, team, invited guest or speaker. This protects from the non-appearance of the individual, although a medical exam of that person may be required.
What Is Not Covered By Event Cancellation Insurance?
Event cancellation insurance is generally a very broad type of policy that covers many of the common reasons an event may need to be canceled. However, there are few issues that are generally not covered by this type of insurance. It is best to inquire with an insurance broker about the specific policy in question, but as a general guide, the following causes are not covered by event cancellation insurance:
War or military action
Pollution or contamination
Financial insolvency
Lack of support or interest
Pre-existing circumstances
Nuclear, chemical or biological hazards
What Expenses Are Covered by Event Cancellation Insurance?
Event cancellation insurance may reimburse non-refundable down payments on expenses related to the event, such as the flowers, catering, entertainment and photography for a wedding. It may also offer protection if a paid vendor suddenly goes out of business prior to the date of the event.
Event cancellation insurance may be beneficial for events such as:
Concerts
Trade shows
Conferences
Athletic events
Conventions
Corporate Events
Parades
Festivals
Car shows
Community fairs
Consumer shows
Event Cancellation Insurance – What You Need to Know
Here are a few factors to keep in mind when considering event cancellation insurance.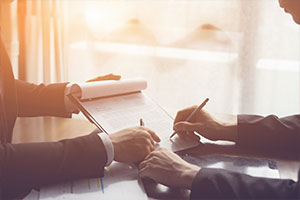 Timing Is Important
Once you start signing event contracts, it is time to consider event cancellation insurance. Some insurers may not allow you to take out a policy in the two weeks leading up to an event. In addition, it may not be possible to take out a policy too far in advance – 24 months is a typical cutoff period.
Payment Might Be Due Up Front
Many insurance policies can be paid in installments, but some event cancellation insurance policies may have a premium that is due at the time the policy is issued.
Get In Touch With The Event Insurance Specialists
With more than four decades of experience writing special event insurance policies, MFE Insurance Brokerage understands the risks involved in planning and holding a special event. Get in touch today to find out how our policies can protect your event and provide you with peace of mind.