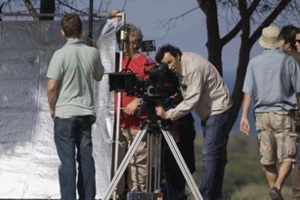 The most important aspect of a film production is the members involved. Actors are responsible for realizing a production studio's vision, and their irreplaceable influence on the final product means that protecting them is one of the most important choices a film studio can make.
Injuries, illness, kidnapping, or even death are unpredictable circumstances that could befall any production team member. Cast & crew insurance protects productions from the financial consequences of injured crew members, replacement actors, and more.
Here's what you need to know.
What Is Cast & Crew Insurance?
Cast & crew insurance, also referred to as cast insurance, covers an entertainment company if they experience a loss because a production member was injured, became sick, was kidnapped, or died while the project was still underway.
Unexpected events such as these can significantly delay production or result in its abandonment. In these cases, the studio must pay for new talent, medical bills, and other expenses out of pocket unless they can file a claim with a C&C insurance policy.
The cost of cast & crew protection varies based on who is included in the coverage and how expansive its inclusions are. Productions heavily dependent on the lead and supporting cast may not cover the secondary and background characters, or they may focus on including the director, who is essential to the completion of the project.
Actors are typically not included under cast insurance protection if they fall ill but do not undergo a medical examination by a qualified physician. However, coverage is available for illnesses after completing medical forms and evaluations.
Examples Of Cast & Crew Insurance Protections
Almost all projects from major production studios rely on comprehensive cast & crew insurance. For example, outside of filming hours but during production of Fast & Furious, a car accident cost Paul Walker his life.
The production team decided to finish and release the movie in Walker's honor. His two younger brothers were used as stand-ins, and their roles were compensated with funding provided by C&C coverage.
Heath Ledger's death also greatly affected two films he was involved in, The Dark Knight and The Imaginarium of Doctor Parnassus. The first was in the editing phase and paused its production following Ledger's departure.
At the same time, The Imaginarium of Doctor Parnassus was left without one of its main characters. Three actors agreed to take up the part in a creative expression of the character's three personalities.
Cast and crew insurance subsidized the expenses to keep these productions running during these times of uncertainty, providing the funding needed to get things back on track.
Factors That Impact The Cost Of C&C Insurance
Cast Insurance has flexible coverage that can be adjusted for each studio's needs. Cast and crew who are well-known typically necessitate greater coverage limits, while up-and-coming actors and directors see lower protections.
Some actors who perform minor roles may not be included because they are easy to replace if unable to complete their contract, reducing the overall price. Combine C&C coverage with other film industry protections from the same agency to bundle and reduce premiums where possible.
Exclusions To Cast & Crew Insurance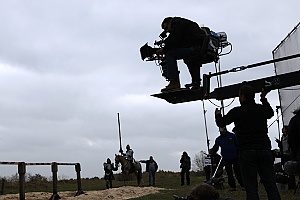 Cast insurance typically excludes illnesses involving young actors, including chickenpox, measles, or tonsillitis. Pregnancy or pregnancy-related situations are not covered by cast and crew insurance. Guest actors who do not appear in at least one-third of the film project will not be covered by standard cast insurance.
Minor accidents on set, such as tripping over cables or dropping props onto someone, are issues normally covered under workers' compensation, as they do not affect the final production schedule of the film or project.
Additionally, stunts are not always covered by insurance if the activity poses a great risk of injury or death to the performer. However, expert film insurers can work with you to create a mix of protections that properly shield your production from financial liability for stunts and other niche events.
Get Comprehensive C&C Insurance From Industry Experts
A film's cast and crew are the core of a production, and it is essential that studios invest in their safety and well-being. Insurance companies factor in multiple risks faced by the cast and crew to provide the best coverage possible.
Working with industry experts ensures these protections are suitable for your project without the burden of unnecessary expenses. The professionals at MFE Insurance have helped dozens of film studios produce hundreds of projects safely and without the financial risk associated with cast and crew injury, illness, and more.
Contact MFE Insurance to discuss how C&C insurance can fit into your overall film production protections and get started on a quote.